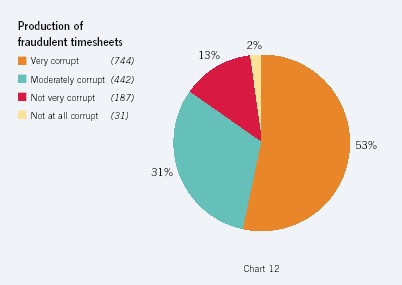 CIOB (Chartered Institute of Building) have published the results (pdf) of a survey of 1400 construction professionals. From their press release:
The World Bank has estimated the cost of corruption to the global economy at US$1.5 trillion a year. More specifically corruption in the Great British construction industry could cost anywhere up to £3 billion a year. The total cost of corruption to the respondent's companies was estimated at £35 million per year.
Ouch! I'm a sucker for graphs and charts and this report has plenty.  An interesting one is posted above (click to enlarge).  Reading the report this relates to dayworks sheets, rather than the issue of timesheets within companies:
Respondents described situations whereby they had either witnessed extra hours or materials being added to sheets or had been asked to sign off
altered sheets. This was explained by some respondents as being an accepted practice as contractors exaggerate their hours knowing that the client will knock them down. The client is knocking down the hours as they are aware that exaggeration is common therefore the situation becomes self-fulfilling and self-perpetuating. A similar situation appears to be occurring with inflated invoicing or claims for extra costs. On the flip side of this, clients may be finding spurious reasons to withhold payment from the contractor. As one respondent argued 'is this corruption or merely a form of negotiation?' 
Fraud is defined as:
A representative of one party tries to deceive a representative of another party, for example contractors may secretly collude during bidding to increase to contract price or a client may accuse the contractor of project defects in order to withhold payment. 
CIOB have suggested that by agreeing a code of practice, the scope of fraudulent activity can be defined.  The current culture is self-perpetuating and blurry edges exist on what is acceptable behaviour.
A code of practice may help to raise credibility of the industry, especially when it comes to recruitment, but I wonder how realistic CIOB's proposals are?