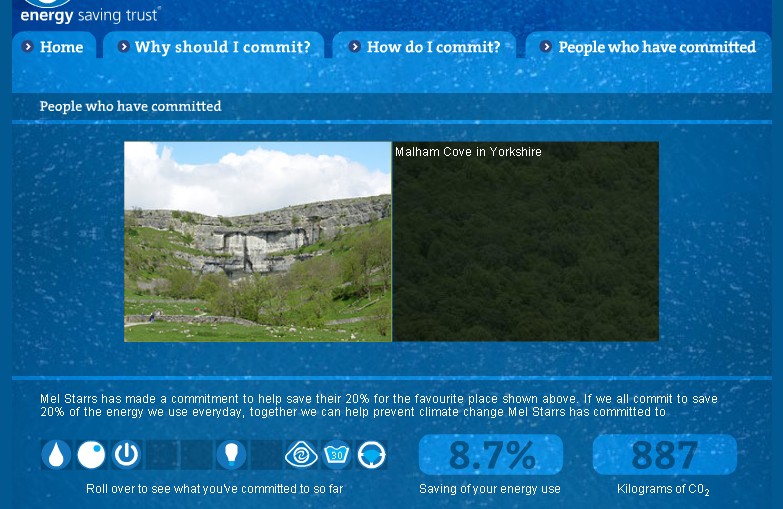 The Energy Saving Trust have embraced the power of Flickr to promote their campaign urging us all to save 20% of the energy we currently use.
If, like me, you have hundreds of photos on Flickr, the site can be quite slow to load. You can also search for images of where you would like to nominate from other's Flickr photos. Once you have chosen your place, you write a short piece about why it is special to you.
The next step is to choose as many of the 10 steps to reducing carbon as you wish to commit to. As you choose them, the value in both a percentage and kilos of CO2 is totted up for you.
You can then send the postcard you create to your friends. It's an entertaining if not entirely productive way to kill some time. Not sure it's going to save the planet, but a novel way to raise awareness. Could see it would be a fun thing to do with kids.
As I already do the things I've commited to, and I suspect most people who read this do too, it's preaching to the converted, but here's the message they send to your nominated friends:
Mel Starrs has chosen you as someone who is concerned about climate change and, like them, is prepared to make a commitment.

If we all commit to save 20% of the energy* we use everyday, together we can help prevent climate change. That's why we, the Energy Saving Trust are asking everyone in the UK to make a commitment to save their 20% and help preserve their favourite place in the UK.

Mel Starrs has committed to:

– Only boil as much water as I need
– Turn down my thermostat by 1degC
– Turn appliances off standby
– Replace 3 lightbulbs with Energy Saving Recommended ones
– Buy Energy Saving Recommended appliances
– Wash your laundry at 30 degrees C
– Not use the car for short journeys

These measures will save 8.7% of the energy they use and 887 tons of carbon dioxide a year.

Click here http://www.energysavingtrust.org.uk/commit/index.php?postcardURI=233 to view Mel Starrs's commitment

Click on this link http://www.energysavingtrust.org.uk/commit to make your own commitment and tell everyone which place you want to save your 20% for.

Commit to save your 20% now.

The Energy Saving Trust.
* One thing niggles me about the site – they don't differentiate between carbon and energy, probably in an attempt not to muddy the waters. But it is important to remember that the commitment is to reduce carbon by 20%, not energy. For instance, by switching from electric heating to a gas boiler, you could be heating the house to the same temperature, using the same amount of energy, but saving a considerable amount of carbon.