I'm deep into research for the dreaded MBA dissertation and I thought I'd share my new found knowledge with you all.
For instance, did you know prior to 1982, ACE and RIBA fee scales were in place in the UK and the markets for both engineering consultancy and architecture were fixed? I had no idea it was so long ago. This was abolished in 1982, in part due to a report from the Monopolies and Mergers Commission in 1977. This opened the market up to competition, but many still loosely base their fees on the old style fee structure. Implementation of a "fee scale" is illegal under competition law. The OFT censured the Royal Institution of British Architects in 2001 for publishing a guide that was interpreted as a "fee scale". IStructE have provisional agreement from the Office of Fair Trading to publish guidance on the express basis that it will not be a "fee scale" for current and future work. Instead it will simple show "historical" information on what fees have been charged for particular types of work and what services would be included (NCE, 21 September 2006).
Other interesting statistics I came across are published in this pdf (64 pages) "Construction Consultants KPI's". The chart which most enlightened me was this one: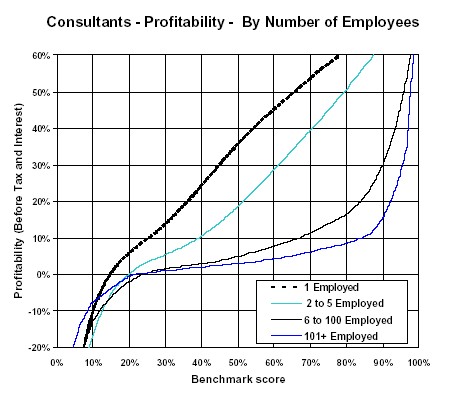 The allure of the small one (wo)man consultancy can be explained by the figures. The median profitability for all consultants was 11.4%. However, for small consultancy firms (2-5 employees) the median is 17.9% while for the larger consultancy firms (100+ employees) it is only 3.2%.
Using the above indicators, a small consultancy firm (2-5 employees), with a profitability of 20% achieves a benchmark score of 52% which means that their profit level is better than or equal to 52% of other small consultancies. However a large consultancy firm (100+ employees) also with a profitability of 20% achieves a benchmark score of 92%, meaning that their profitability is equal or better than that of 92% other large consultancies.
So why do large consultancies exist? According to the data above, it's not for the profits. More likely it is for the economies of scale created by exploiting internal knowledge markets. For instance, project managers take knowledge learnt from previous clients and projects, and apply this to a new case. The ability to leverage the knowledge retained from previous projects is in effect the practice of intellectual capital management (ICM) within engineering consultancies. Of course for this to work efficiently in practice KM has to be at the forefront of investment* in the large consultancy.
All this stuff is the kind of things we just don't get time to think about in the normal course of a week. Not that I would recommend thinking about it at the weekends either.  But if I must, I may as well be generous with my knowledge…
*investment is not just capital expenditure, but also equally time, effort and recognition