As you can see, if you are not one of my 50 odd subscribers by RSS (at last folks seem to be catching onto the joy of RSS), I've changed the look of the blog (again). If you are one of my 50 odd subscribers, thank you and please stop by and have a poke at the new look blog.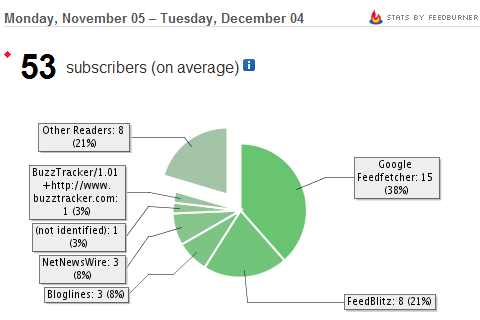 I'm much happier with this look. As always, let me know if there's anything wonky going on (the black text on blue background in my last incarnation was not a good look.
It's a bit early to be talking of New Year resolutions and the like. However, now I have all the fun of NaBloPoMo behind me, I might just let the blog coast for a wee bit before embarking on a similar exercise come January, in an effort to finally rid myself of all the drafts in the bucket. The problem with writing a post a day is that it tends to generate ever more topics for discussion. So whilst I do some more tinkering, I'll be thinking hard about BREEAM, BIM, M&A activity, job titles and the future of the workplace.
(edit: I managed to post this as a page instead of a post first go – yikes, too tired to think straight – a blog hiatus may be in order – sorry if things go quiet for a bit, but then any time I've threatened that in the past, a flurry of posts ensues.  Hmmm)
(edit#2: in a blinding show of incompetence I've converted all my categories to tags.  Whilst this means I have a lovely tag cloud to the side now, I have also made most of my posts 'uncategorised'.  Yikes.  I'm going to have to go through and do some relabelling.  Bear with me – it may take some time)