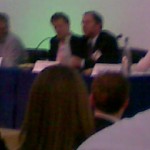 Last Monday I attended Green Monday, a monthly networking event for corporate climate change leaders in London. I was first alerted to Green Monday by Phil back in September, but this month was the first time my calendar had conspired to allow me to attend.
The event kicked off with a panel discussion and then went on to round table discussions. I really enjoyed the panel discussion – some highlights of which I jotted down on the crackberry (I'd been very remiss and forgot pen and paper).
First up was Dr Peter White of Procter & Gamble who was keen to emphasis they exercise no trade-offs. Meaning that it should be possible to have both sustainability AND performance, rather than compromising with a sub-standard product. Coincidently, I am currently reading We-Think

by Charles Leadbetter and P&G are featured heavily in it in the chapter on We-Think business. According to the book P&G have set a goal of getting 50% of their new ideas from external sources and encourages open-innovation. All its patents will be released either 5 years after they are lodged or 3 years after a product is shipped. So the innovative new detergent which washes at 15ºC which Peter referenced, should in theory be in the public domain within 3 years – which can only be a good thing for climate change. This is a vast shift in IP strategy and something all companies should be thinking about, if not yet implementing. The models of business are changing.
Next up was Marie Louise Ter Boek of McDonalds. Colleagues had scoffed at the idea of McD's having the audacity to sit on such a panel, but times have moved on. The "big bad corporates" are learning and evolving and we are all playing catch-up with each other. Last year's greenwashers can turn out to be this year's heroes. Anyway, Marie was heavily referencing DEFRA's framework which was very timely as I had re-read the summaries that morning. Written by Futerra, there are two strategies  for positively communicating climate change: Rules of the Game (pdf) (relevant to changing attitudes) (long version available from DEFRA here (pdf, 48pages)) and New Rules:New Game (pdf) (relevant to behaviours). Recommended reading and hold an explanation as to why eco-bling such as urban wind turbines might act as a catalyst to further action – big socially visible actions can lead to smaller actions such as energy saving lightbulbs, so whilst we engineers lament the physical energy contribution, we are missing the social knock-on effects – something to ponder).
The third speaker was Alan Knight who was frustrated by our current language of doom and gloom. Do we talk ourselves down? He was keen to emphasis enthusiasm and ambition. What does the future world look like? Imagine a world of 20% of today's carbon, no poverty, no obesity, diabetes etc. He was also keen to promote the business case for framing solutions in a positive way. As he said, there is no business case for famine (he was referring here to Lovelock's prediction of 8 billion dying). There is an opportunity to reengineer today's lifestyle to be 20% carbon but edit out bad choices. Again, no trade-offs. Requires an air of optimism – don't talk ourself into defeat. Alan "blogs" here (no RSS and very few posts).
The final speaker was Jeremy Leggett of Solar Century. I had high hopes of fireworks given his voice over at CiS, but he was remarkably calm and calculated. He talked of the triple crunch of climate, financial and energy. Asset assessment is, in his opinion, systemically wrong (gas and oil). He was keen to promote The Oil Crunch Report authored by Arup, FirstGroup, Foster + Partners, Scottish and Southern Energy, Solarcentury, Stagecoach Group, Virgin Group, and Yahoo. I've not had a chance to read it yet, but the thrust is that a peak in cheap, easily available oil production is likely to hit by 2013, posing a grave risk to the UK and world economy. Other interesting tidbits from Jeremy included the fact that 18 of 27 european countries now have FIT (feed in tariffs). He was also keen to point out that there is no magic bullet – solar is one of maybe 50 families of alternative technologies.
The roundtable discussion afterwards was broken into different topics and I opted for commercial real estate. The table discussed the zero carbon consultation and experience varied from those who had read it several times to those who hadn't heard of it at all. The majority of us however agreed that we had consultation fatigue. Then it was time to schmooze. Like any of these events, it takes a couple of attendances to build relationships, so no million pound deals were made, but I was pleased overall.
All in all, it was a good gig. I've applied for a space again next month. It's a much more organised and less rowdy event than London Green Drinks (which is currently overrun in it's current venue – making it a hot, sweaty and slightly unpleasant experience).