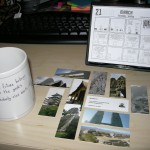 I'm not quite sure when I crossed the line from nerdy reader (a lifelong habit) to full on geekdom, but I suspect it was when I discovered blogs. I'm not ashamed by my geekiness, in fact sometimes I'm quite proud of it. But it wasn't until I started working with a bunch of Gen Y's who, if the press are to believed are constantly IM'ing and Youtubing and can only converse by txt, and my geekiness was an order of magnitude greater than theirs, that I began to realise how far across the line I'd crossed.
So how many of the signs below can you identify with?
There is obviously no hope for me. This list could have been expanded to 20 quite easily, but I thought I'd better stop before I completely expose all my foibles! Anyone else wish to confess their geeky habits or quirks?