Spotted this article in BD last week which piqued my interest. I've been thinking long and hard what a change of government next May might mean to the industry.
The Conservative Party has trained its sights on Cabe as part of an expected crackdown on expensive government quangos if the party wins the next election.
In the midst of the worst recession for decades, shadow ministers Ed Vaizey and Grant Shapps this week raised questions over the future of the taxpayer-funded watchdog following leader David Cameron's recent pledge to replace the current "spendaholic" government with a new government of thrift.
So how much spending are we talking about here? Off to the ERC Quango database and a few minutes later I had knocked up a graphic with the 2006 government funding inserted. Note that the LDA figures are taken from their annual report for 2006/7 and relate only to the DTI funding (they have contributions from others). Also, the HCA was still EP and HC back in 2006.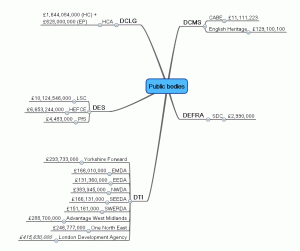 click image to enlarge
Whilst CABE spends considerably more than say SDC, it pales in comparison to English Heritage and the RDA's. And by far the biggest slice of the pie is HCA. (I'm assuming the spending in education is actual delivery of education rather than building of schools).
I'm not sure whether CABE are safe or not, or if they should be. But it's always worth putting a bit of context to a story when there's no data given. Come on BD, you could have done that?
And why should the industry care? Take a look at the bodies above and tell me you haven't been involved in at least one project where funding came from one of those pots over the past 10 years? So, crystal ball time. Without getting into party politics, anyone want to predict what the effects of a change at the top will be (especially for those of us (mid thirties and younger) who have never really worked under any other flavour of government)? Comments, as always, are open…