I missed this report the first time around, but it is from RICS FiBRE (Findings in Built and Rural Environments) – Making the Business Case for Sustainable Buildings. It was brought to my attention through the UKGBC BREEAM consultation (apologies – UKGBC members only link).
A short 12 page report it is worth skimming through, but the main points can be illustrated with the graphics:
Which can be solved with: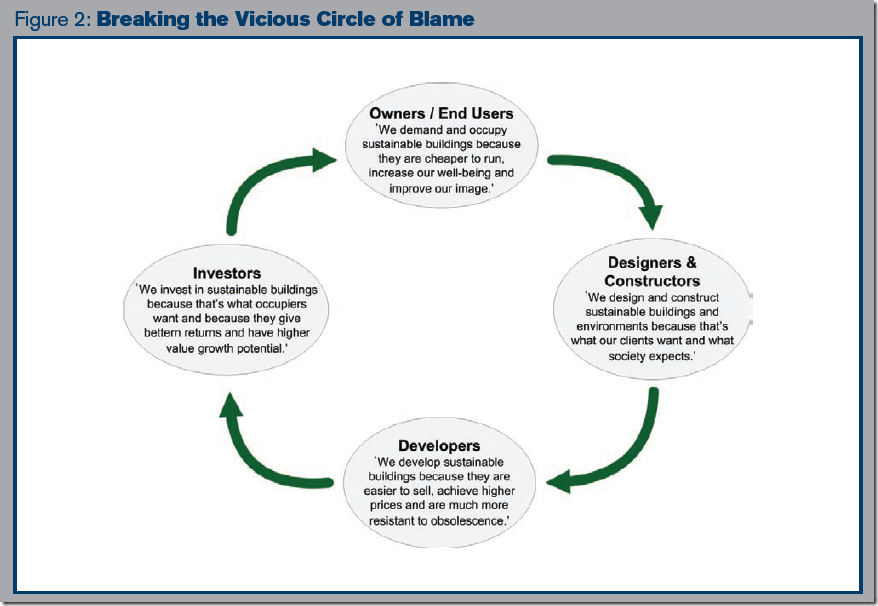 Which leads to:
So where does BREEAM sit and where does it make sense for it to influence? BREEAM is not policy (not do I believe it should be), but it is a certification, which sits at the top right of the diagram. With the consultation currently ongoing, I have been taking some time to think about what the intention of BREEAM is. Still pondering…
The conference put forward five Key Messages
• Sustainable buildings are not any more expensive to build from the outset than conventional ones but their ownership can result in clear benefits for investors, ranging from drastically lower operating costs to improved marketability, longer useful life-spans, significantly increased occupant productivity and well-being as well as
more stable cash-flows which in turn have economically quantifiable benefits.
• Effort should be focused on the immense savings potential embedded in the existing building stock. Retrofitting and refurbishing the existing stock offers the most cost effective solution for reducing energy consumption.
• Unsustainable construction, investment and management practices will lead to accelerated building obsolescence and losses with regard to asset value and financial
performance.
• There needs to be a shift in marketing strategies for sustainable property towards a clear focus on user satisfaction and comfort all of which can enhance the prestige of the building.
• A truly sustainable property market needs to go beyond "green" and economic considerations and also embrace social sustainability.
Excellent messages and we've still got (lots of) work to do on all five.