The CAT Zero Carbon Britain 2030 report which came out 16 June 2010 has some interesting ideas in it, but I wasn't immediately convinced by this one (as reported in the Ecologist):
Thirteen million hectares in Britain are used mainly for grazing livestock and growing feed for them. By cutting the numbers of cows (by 80-90 per cent) and sheep (by 80 per cent) we can cut methane emissions from livestock and switch the land to fast-growing energy crops like short rotation coppice. These can be used to produce heat and power.
It would mean a diet of less beef and lamb (50 per cent less meat and dairy produce overall) and a countryside landscape of fewer sheep-dotted fields and more tall woody crops.
News analysis – Zero carbon Britain: how to get there in 10 steps – The Ecologist
Now I wasn't debating the cows here, but the sheep. Sheep are generally (barely) profitable on land which has little other use. Now, I'm no expert but surely coppicing requires a similar kind of land to crops – fairly flat and easy to harvest? Am I wrong? Most sheep farms are up rocky hills, surely?
This is the kind of countryside I think of, when I think of sheep farming. The report does allow for:
20% of sheep, with those remaining mostly in hill and upland areas;
There are carbon advantages in going vegetarian, but sheep provide wool, which is a very useful resource (clothes, insulation, lanolin etc). We would need to replace the calories from lamb with vegetable matter. The graph below is from the CAT report: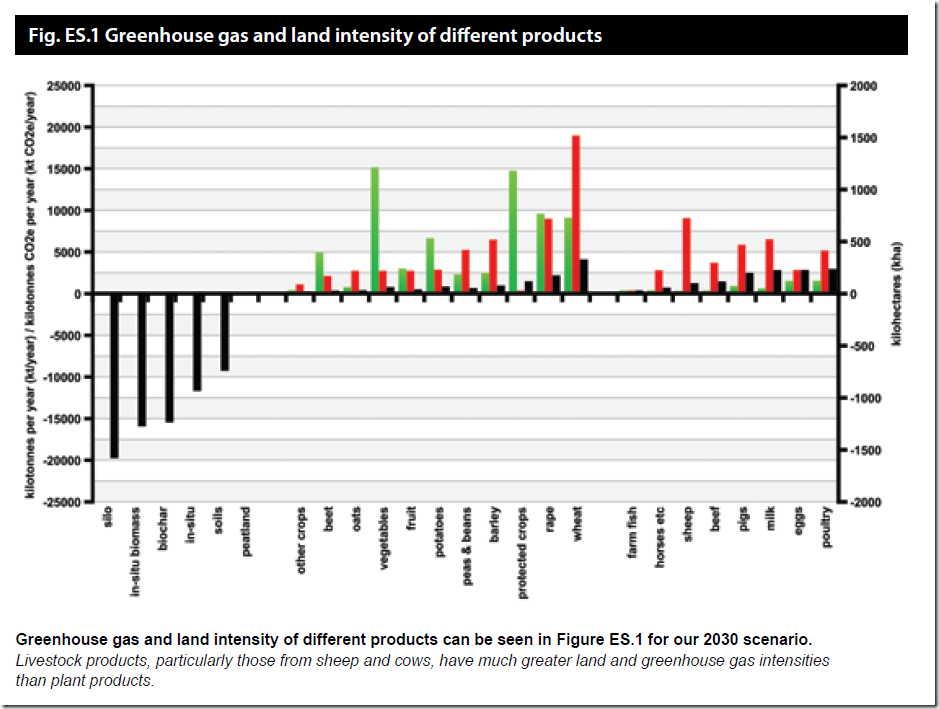 What's missing from this graph is number of calories per tonne. For example, a kilo of lamb (raw leg joint) provides approximately 1680 calories. A kilo of potatoes (raw) provides approximately 720 calories. A kilo of apples provides about 480 calories. And of course we could start to look at protein involved too. It starts to get very complicated. If anyone has some good references (preferably not nef, I need someone else to compare to them), please leave me a comment.
Having skimmed through the food chapter I think the 'sheep' aspect may have been exaggerated by Ecologist – I must read it in more detail but I'm information rich, time poor right now, so if someone else can do so and summarise I'd be very grateful!
Apart from this tiny niggle, the rest of the ideas are fairly standard fare (for me anyhow – I understand the report is not necessarily aimed at those of us immersed in this stuff every day). I confess I haven't read the report cover to cover (384 pages), but relied on reporting elsewhere to get the highlights.
Anyone read it and have any comments? As always, comments open