Recently the most asked question I find myself answering is "how do you have the time to blog?".
My facetious answer usually involves the fact that I have a cleaner, don't have kids and live with a workaholic who spends at least as much time online as I do, but the more useful answer is below. This is partly an update of a post I first wrote back in September 2006 – Lifehacking my thought processes – it's been fun to compare what has changed and what has stayed the same.
Firstly, I am a big fan of David Allen's Getting Things Done
. I've refined and enhanced my workflow over the past few years and every time I think I've got to an optimum place, a new app appears or an old faithful disappears. It's a constantly moving feast. My current interpretation is below the diagram.
The next discipline is being picky in my focus. I read broadly, but certain things I don't bother with too much (high level theorising about climate science just doesn't hold the same interest to me as the application of building physics). My interest in sustainability can be defined as the application to the built environment (from city scale down to individual components of buildings). I have a passing interest in renewables and carbon taxes, but I'll spend more time researching applying current thinking to how it could affect projects than try to come up with new solutions myself. I've accepted I can't follow everything – much as I try I can never read the entire internet.
The final piece to my jigsaw is the gadgets I use to consume, process and produce information. Until last year I was a desktop PC gal, but when we moved house and I no longer had the luxury of a dedicated home office I switched to laptop only. After an ill-advised dalliance with an inherited Windows Vista laptop, I finally took the plunge and bought a MacBook Pro. I also splashed out on an iPad and have been inseparable from my iPhone since I got it 18 months ago. I am still on Windows at work. My workflow depends on me being able to access data from several gadgets and always being synched.
For a brief primer on GTD this diagram explains it well: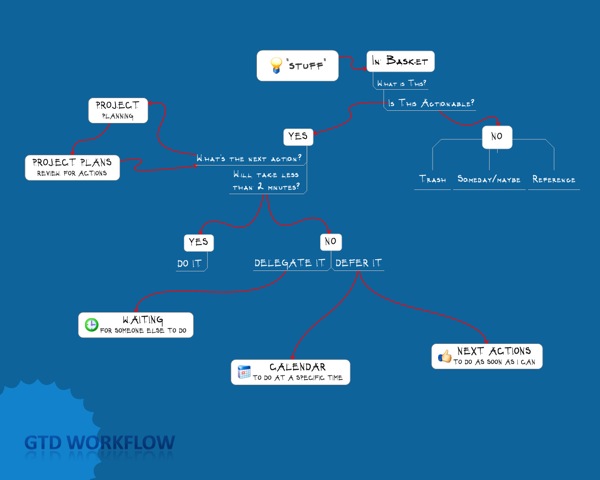 (apologies – I haven't attributed this to the owner/creator – I can't find the website anymore).
So, my inboxes. I have 3 principle inboxes – email, RSS and tweets.
For email I use Gmail and using filters, labels and multiple inboxes and a few settings I can process email really fast and effectively.
Anything which is loosely 'work' or buildings related gets a filter applied of either 'News' or 'Contacts'. So email newsletters from CIBSE or notifications from LinkedIn appear in a filtered inbox (using the term "Search results for: label:news OR label:Contacts AND in:inbox"). So when I open Gmail I don't have to hunt between my personal stuff and work stuff. In 'Labs' in Gmail, I have the setting for auto-advance turned on. This automatically shows the next conversation instead of your inbox after you delete, archive, or mute a conversation. You can select whether to advance to the next or previous conversation in the "General" Settings page. So I read the email, decide if it actionable, and act accordingly. I don't tend to process email unless I'm at a laptop, though I scan for interesting and important stuff on the iPad/iPhone.
For RSS, I use Google Reader to subscribe. I will always choose RSS over email for receiving information from websites. Again, I have RSS feeds in groups so I can process quickly. Magazine headlines get scanned, blogposts get a bit more attention. On the laptop I use the Google Reader webpage in Firefox when I'm at home and Explorer (not my choice) when at work. On the iPad I use Reeder for 'work' or serious stuff which synchs very well with Google Reader. Reeder is very functional and great when you don't want distractions when reading. For 'entertainment' blogs (food, travel, shopping) I use Flipboard on the iPad. Flipboard is lovely with a lush interface but it doesn't offer the same range of options for opening articles or links that Reeder does. As I seldom need to 'action' entertainment blogs, this is not an issue. I have Newsrack on the iPhone, but I admit I stopped using it as you just don't get enough screen acreage on an iPhone to do justice to RSS. Another reason why I don't process email there either.
Twitter is my final inbox. Now there is no way that I can possibly read every tweet, never mind click through to every link that is tweeted. I treat twitter as more of a serendipitous experience. My weapon of choice for twitter is my iPhone where I use the Twitter app (having tried various apps over the past 18 months). I use lists on twitter to keep an eye on streams I don't necessarily want to subscribe to, but the best app for keeping an eye on lists is Tweetdeck. You can now add twitter lists to Flipboard, which again I use for 'entertainment' streams (food, travel, shopping). I only use Tweetdeck on the Macbook, at work I use Seismic and on the iPad I flit between Osfoora and Twitter app depending on what I'm looking at. As I spend a lot of time on twitter when mobile, I favourite tweets which I want to look at later – in effect this becomes another inbox which needs processing. The best way I've found so far is within Firefox on the twitter page – if anyone knows of a killer app which makes processing favourites easy, please let me know.
So now I have all my inboxes – now I need to process the items and decide what the next action is.
If I find an article which I want to share with a comment on the blog I use Delicious, which then co-ordinates with a WordPress plug-in, Postalicious. I have bookmarks in both Firefox and Explorer which allow me to bookmark from the webpage. If I want a shorter comment, I share on Twitter. In Firefox I use the add-in Twitterbar. In Reeder I have the most options of what to do with a link – I can send to delicious, tweet it, send to instapaper or open in safari.


In Osfoora I have the option of opening links in Safari, tweeting or emailing. If I want to add to delicious, I open in Safari and do it from there.


In Twitter, I can add to Instapaper or open in Safari.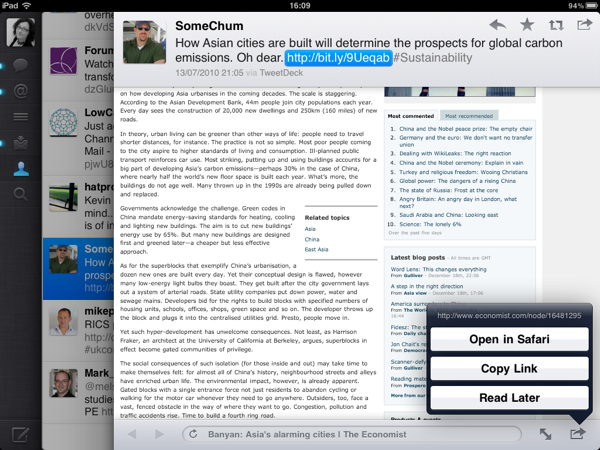 If I don't want to immediately share a link, I might want to keep snippets to refer to later. For this I use Evernote, which I have set up with an email address so I email snippets rather than need to add yet another app. Evernote is my 'Reference' bucket. For things I want to do at a later date, I add links and snippets to RTM (again using an email address). The Remember the Milk app for the iPhone is great – highly recommended.
For long form blog posts which I want to read at a later date I use Instapaper. Historically Instapaper was where links went to die, but having the app on the iPad I do now actually read the articles.
The final medium which I process is pdf's. These were not best read on screen, and I used to have stacks of printed out papers, but the iPad has changed this. I send all pdf's to iAnnotate in a few ways. They then get read, marked up and emailed to Evernote for future reference/blogging. To send to iAnnotate I use Dropbox or Goodreader. If you have Goodreader installed on the iPad and you have a pdf open in safari, just insert 'g' before the http and it will open in Goodreader (and then you can push to iAnnotate – ideally I'd like to skip Goodreader). I used to have Dropbox installed on my work laptop, which made it very easy to file pdf's to read later. Due to IT lockdown, I now need to email docs to Dropbox. I used to use Habilis but it has gone to the great server in the sky. I'm now trying out Send to Dropbox.
So I process a great volume of data fast and don't need to dither about what the next action is. I still need to blog the stuff I process but my receptacles are fairy well defined.
Any tips out there for stuff I've missed? And remember, this is the result of years of tweaking – I did not get to this stage without a lot of trial and error. The biggest fly in the ointment currently is the potential demise of delicious. This would seriously compromise my workflow and I'm holding onto the hope that someone rescues the service.