Several people came back to me since my blog earlier in the week and have pointed out that the UK figures exclude embodied carbon.
This is true. My favourite grumpy environmentalist George Monbiot explains it all here.
All very valid points, but it doesn't help me much when I'm in a design team meeting and someone wants to know if the buildings we are building today are contributing to the 1990 target.
I take on board the embodied carbon in construction materials – there is some sterling work going on at Bath on this – I would urge you all to make yourselves familiar with the Inventory of Carbon & Energy (ICE).
But we aren't measuring this yet – good behaviour isn't rewarded in Building Regs, Code for Sustainable Homes nor BREEAM (yet – surely it can only be a matter of time). Neither do we measure the carbon used in driving to and from place of work and home. Again, I'm sure we will eventually get there.
So given what we do measure what can we say about progress?
Let's go back to the DECC statistics I looked at earlier in the week. Opening up the data tables and going to Table 4: Estimated emissions of carbon dioxide (CO2) by National Communication source category, type of fuel and end-user category, 1970-2008, I find the following relevant categories:
Commerical and Institutional (Business)
I have some kernels of doubt remaining – how do these figures account for the emissions at the power station versus emissions at the building (a classic Sankey diagram springs to mind), so please feel free to point out flaws in the methodology. I've used the 'by final user' figures.
I put it all into a graph and the picture is clear – we're not doing too well at all. By my calculations, in 2008 we're at 8% less carbon than 1990.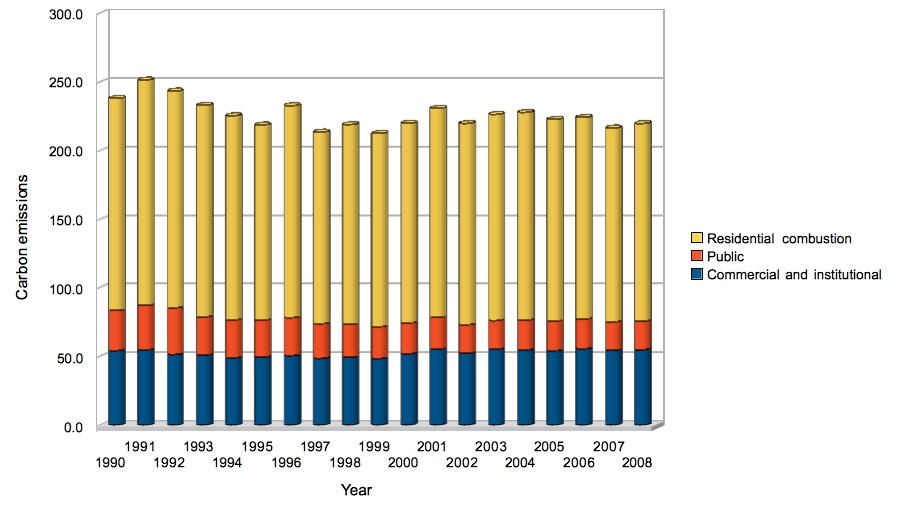 There's lot more I could do with the data here, but I'm looking for a broad brush picture. Can anyone explain the peak in 1991?
A depressing note to end my 700th blog post on (in just under 5 years – not bad going!)