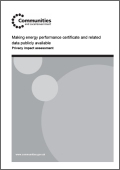 This could be huge news for DEA's if it goes ahead.
From " Making energy performance certificate and related data publicly available: Privacy impact assessment" from CLG in Jan 2011, para 7.4.2:
Where an Energy Performance Certificate is inaccurate, it must be replaced at no charge to the consumer. Energy Performance Certificates are valid for ten years (after which, a new Energy Performance Certificate would be required but only if the property was put up for sale or rent).However, it will be a requirement that an updated Energy Performance Certificate will be produced and lodged following the installation of Green Deal measures, thereby ensuring that the Energy Performance Certificate is always up to date and accurate.
Does this mean that EPC's undertaken by domestic energy assessors currently may need to be replaced for free if initial investigation for Green Deal work uncovers that the initial EPC is inaccurate?
I obtained the EPC for my own house (of course I should have been given it on purchase, but we either lost it unknowingly or were never given it in the first place as both myself and my partner swear blind neither of us have ever seen it) and spotted obvious errors immediately (floor area, assumptions on construction materials, etc). If this proposal gets approved, will I be able to go back to the assessor (who produced it on behalf of the previous owner as it was for a sale) and ask for a free replacement? This could have a massive effect on DEA's (domestic energy assessors). If you want to retrieve the EPC from your own property, it's quite easy from Landmark – only took a day or two to sort out mine.
A new EPC on completion of Green Deal sounds a good idea, but I have my reservations against using EPC (a theoretical energy efficiency certificate which gives the POTENTIAL performance of a building) to quantify savings against a target of 80% reduction in ACTUAL carbon savings in real life. The Climate Change Act 2008 commits the UK to a statutory target to reduce its emissions (from all sources) by 80 per cent by 2050 from a 1990 baseline. See my previous posts on how well we are currently doing against this target.
What is not clear from the paper is if the Green Deal providers will need to pay for the EPC data. If so, could this prevent SME's competing with the likes of EON or Tesco for the Green Deal market?