This post has been a long time brewing – my intention is to explain where green building rating systems sit within legislative and regulatory frameworks and why they exist in the first place. It's a story of carrots and sticks and I'm afraid it gets a little muddy as the law is somewhat woolly. I've set the context in the UK, other countries may vary. Where I've got legal terminology confused, please do jump into the comments and correct me. I've tried to write in plain English.
First let's think of sustainable buildings as a destination we are trying to reach, which the industry as a whole is moving closer towards (you may disagree with this statement – if so, I'm sorry the rest of this will make no sense whatsoever). So we can show the highest possible 'level' of sustainability on one axis, and time on the other, with the industry moving towards the ultimate goal of 100% sustainable buildings. It would help of course if we had a definition of sustainable buildings. Tricky topic – for now let's assume in general we have a consensus of where we are moving toward (and it is likely to be resource efficient, low carbon, water efficient, affordable and probably with lots of good stuff to do with social sustainability that is as yet unmeasurable).
Most builders will ensure their building stays standing, is safe, and works as it should. And for those who don't, we have building regulations. These are the sticks with which government beat the bottom of the market with, to ensure minimum standards are met, and those who don't are either prevented from building or punished when it all goes wrong. Again, we can imagine regulations on the same graph, except this time instead of a smooth curve, we have a step jump, where regulations are improved at points in time eg the improvement of 25% in Part L from 2006 to 2010.
Some history on Building Regs is available in this post, where I explain what is regulation and what is merely guidance and the oldest building code known to man turns up in this post.
Somewhere between the floor of regulations and the ceiling of maximum possible sustainable buildings lie codes and green building rating systems.
For the purposes of this post, I am going to define green building rating systems as being made up of standards. Each category or credit refers to a standard which needs to be met (most green building rating systems invoke some level of minimum standards in order to reach certain levels, eg: a certain energy score to gain BREEAM Excellent). Standards can be voluntary or mandatory. Standards arise when consensus is reached and as this is generally a democratic activity, there will always be some blue sky above and beyond the standard (the gap between the top line and the next one down).
I am now going to argue that a green building rating becomes a code when it is contractually required eg: by planning or funding. Once it has 'passed' the test of time and become a trusted benchmark, giving confidence, reliability and repeatability across the market, it is time to become codified. Indeed, this indicates a maturing market. At this point, codes tend to become somewhat static, as they wait to become the floor (or lowest common denominator) and then eventually become obsolete. The best example of this in my opinion remains Code for Sustainable Homes which always had a shelf life until about 2016 when in theory CSH6* would become the norm.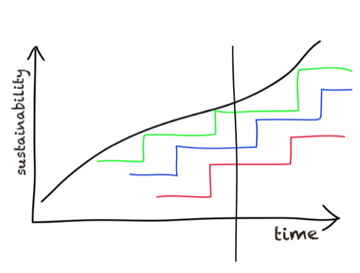 So on our timeline we now have 4 lines. Slice through at any point in time and we have a classic diffusion of innovation curve. The innovators are ahead of any consensus and standards, breaking new ground and experimenting. A great place to be but niche (by it's very nature). The early adopters are the highest levels of green building ratings – the CSH6*'s, BREEAM Outstanding's and LEED Platinum's. The early majority and late majority are mostly doing green building rating because they have to – this is where the rating system has become codified. The laggards are struggling to meet the bare minimum of Building Regulations.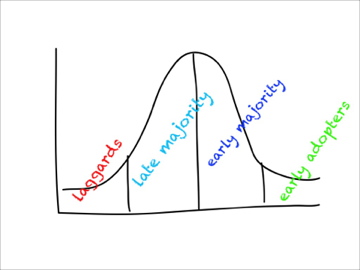 Codifying standards acts to advance the mass market, but the early adopters must remain catered for. There ought to be carrots to reward innovation and encourage the front of the market to remain moving ahead.
I hope I've explained my thinking clearly – I have a feeling I may be referring to this post again in the near future…