Announced in April's BREEAM Process Note:
Effective from 1st May 2011 the BREEAM Gulf scheme has been withdrawn from operation. This means that we will no longer accept new registrations against BREEAM Gulf. All future assessments in the Gulf should use the BREEAM Bespoke International scheme. Any existing registration will be recognised and assessment certified provided they are submitted within 5 years of this date.
There are no certified projects showing up in the Green Book Live database [checked 13 July 2011], either at final or design stage. The scheme was in place from late 2008/early 2009.
The countries covered by the scheme were UAE, Oman, Qatar, Bahrain, Saudi Arabia and Kuwait. EmiratesGBC still make reference to BREEAM Gulf in addition to LEED and Estidama.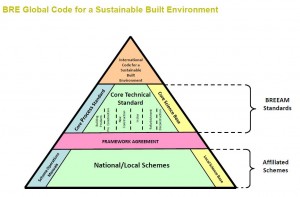 Is this the first step towards the move to an International Code for Sustainable Built Environment (pdf, 6pgs) which BRE have been touting over the past year? BREEAM Gulf was administered from and in the UK, so did not fit into the future model in say the way BREEAM-NL in the Netherlands does (which is administered in the Netherlands and written in Dutch).
There are arguments for and against administering the scheme locally (and in the local language). Having worked in BREEAM in English on projects where all the original documentation and drawings are in the local language, I can see the benefits. However, projects will lose the benefit of using the pool of experienced assessors and advisors that exist (unless existing assessors randomly are fluent in the local language).
I haven't seen this reported anywhere else – why so little interest?