The CBI have released a report aptly named 'Unfreezing the market' which makes 11 recommendations, both short and long term, for the government and the market to kick start the housing market, which should in theory then boost the wider economy. After the doom and gloom of the past few weeks (a series of FiT blogposts is in the offing) it's good to see sustainability still given a place at the table. It is recommendation 11 (a higher billing would have been ever better, but let's not split hairs). Annoyingly the document is locked and I'm too lazy to transcibe the whole thing* so below are a couple of screen grabs from the sustainability section.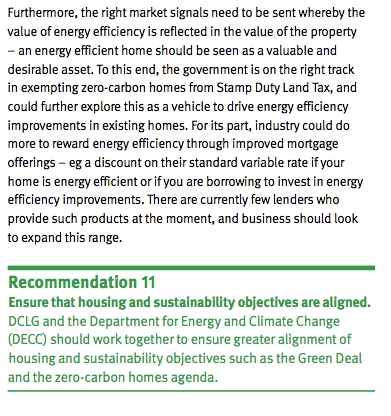 All in all, plenty in there to applaud. There does seem to be a little confusion in the case study below as what zero carbon is (the energy credits ENE1 and ENE2 of Code Level 5 are more or less the revised zero carbon standard referred to elsewhere in the text), plus the equating Code Level 6 to Passivhaus is just wrong (apples and oranges – Passivhaus generally comes out at CSH4* energy level in my experience, thanks to the differences in PPHP and SAP methodologies). Equating CSH levels to energy levels alone is a mistake many, many folks make a lot (some of whom who ought to know better – I won't name and shame but my twitter feed from recent conferences may enlighten those who are feeling nosy).
I've come to a kind of peace in that we will be continuing to have a target called zero carbon (previous rants here) and have done all I can to get the phrase dropped. We're stuck with it, and quite frankly, there's bigger problems facing us than a bit of semantics (much as it pains me to admit this).
I have high hopes for the NPPF and sustainability and the CBI have picked this up too. They also pick up on the Green Deal, which I'm less convinced by but will hold judgement until the consultation is out.
Other things to be commended in the text above – plans for reflecting energy efficiency in mortgages and stamp duty (yes please).
*SEO experts out there will be shaking their heads appalled – life's too short
NB: those coming via Google over the past couple of months may have spotted I was hacked. This is hopefully all fixed now, but I continue to have odd results in Google or other search engines wich show up hacked links. There doesn't seem to be any point to them other than trying to get people to know the names of fake drugs (links still go here, just read odd on the search page). They'll fall off the bottom in a onth or two. Thanks for bearing with me.