This piece by Rowan Moore in the Observer on Kevin McCloud's Triangle in Swindon piqued my interest in the development again. Hattie has already done a great piece in the AJ with lots of lovely numbers in:
Annual co2 emissions 11.85kg/m2
U-value of walls 0.19W/m2K
U-value of glazing 1.3W/m2K
Airtightness at 50pa 5m3/m2.hr
Daylight factor habitable rooms 2% minimum
Very commendable. A couple of things intrigued me about the development. Firstly – why so inward looking?
Clustering around the 'triangle' it looks very insular which I'd always found a bit odd in the photos I'd seen. Turns out there's a good reason. Here's the Google map view (taken before the development)
The triangle is the odd shaped infill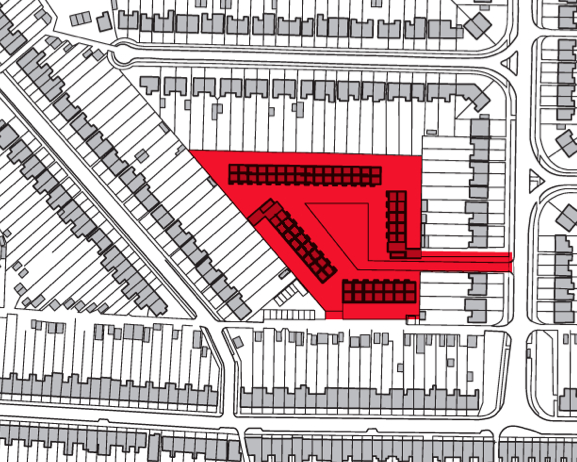 Makes much more sense to me now, and also explains why the gabion walls screening the cars exist – there was no opportunity to put the cars anywhere else and whilst they needed to be overlooked from the houses, would have become dominent and detracted from the Triangle if they hadn't been screened. Now that mystery is cleared up, another point in Rowan's piece intrigued me:
It is about little things achieved within the standard budget for housing association developments – apart from a little additional support for some of the more adventurous environmental features.
What were these adventurous features? The article implies that it might be the swales and landscaping which added to the cost. I then wondered aloud on Twitter if the scheme was HCA funded and if so what Code for Sustainable Homes level it was? Quickly, the answer came back – yes, and CSH4*. Which then lead me to wonder more questions:
were there any CSH mandated features which the team wouldn't have done given the choice?
was there anything they wanted to do but budget constraints in meeting mandated CSH4* features prevented them?
without the extra budget for the 'adventurous' features what CSH level would have been achieved?
Rowan doesn't mention the Code at all in his piece – outside the pages of the industry press it is virtually unknown (ask your friends, parents, hairdresser, dentist if they've heard of it – if they have let me know!). Hattie reckons some of the houses would have been CSH5* with the addition of PV (and orientation isn't too bad – only the E/W facing block would have been totally unsuitable), but again, it's not clear if this is CSH5* on ENE1 only, or in fact a score of 84 points (compared to 68 points for CSH4*).
If anyone knows the answers to any of my questions, let me know. I've dug around on the internet and as usual (with the exception of Hattie's piece) there is a dirth of hard facts and figures…