Laying the Foundations: A Housing Strategy for England was published on 21 November to much fanfare and, with what is becoming much more common, widespread trailing of the content on the run-up to the publication and announcements.
So what was there for sustainability within the strategy? Nothing much was reported in the press, either industry or mainstream, but there are a couple of points I'd like to take up.
Firstly, a recommitment to Zero Carbon is found throughout:
At the heart of this is our commitment to delivering the Zero Carbon Homes standard for all new homes from 2016, which will mean that all the carbon emissions covered by Building Regulations – such as from heating, lighting, hot water and other fixed building services – will need to be abated.
I'm looking forward to seeing Part L 2013 consultation (hopefully later this week) which will hopefully signpost the way to what zero carbon by 2016 will actually look like. Much is made of cost effectiveness in the strategy:
this Government is serious about reducing our carbon emissions, but we must do this in the most practical and cost- effective way. A revised definition of Zero Carbon Homes was announced in the Plan for Growth (alongside the 2011 Budget) which is expected to reduce the extra costs of building Zero Carbon Homes by a half compared with the previous administration's approach.
Yes, it was announced, but I'm still waiting on the details. Tantalising hints are given:
27. But the Government believes that more can and should be done. The Government's approach to zero carbon, which will apply to all new homes coming through the planning system from 2016 is a practical way of doing that for new homes. The zero carbon standard will require high levels of fabric energy efficiency in all new homes and we are taking forward requirements for this and other on-site measures through successive improvements to the Building Regulations. Revisions introduced in October 2010 delivered a 25 per cent improvement on 2006 carbon emissions standards for new buildings. Our current review of the Building Regulations is looking at opportunities for further improvements planned for 2013 where these can be achieved while meeting our deregulatory aim – we will consult on these changes shortly.
So are we expecting Part L 2013 to be an additional 25% on 2010 (44% on 2006) for housing – eg: CSH4* ENE1 level? That was what has always been targetted to date, but text above isn't committing to this (odd, for a government that I have said before, loves to trail their policies) – will allowable solutions make up a bigger slice of the pie? The micro-generation industry is already twitchy given the Feed-in tariff reviews – giving allowable solutions a bigger slice of the pie will prompt much more gnashing of teeth in the industry. This vein continues:
28. This approach will allow developers to support off-site carbon reduction measures like district heating schemes, where it is not technically feasible or commercially viable to abate all carbon emissions through fabric energy efficiency or other measures on the house (eg solar panels). The Government set out in May 2011 some general principles for the delivery of off-site measures. The independent Zero Carbon Hub published a report in July which set out how delivery mechanisms for these measures might work. The Government welcomes this report and is working to see how the delivery approach suggested could be applied in line with the principles set out in the May statement. By supporting investment in local priorities for renewable energy and energy efficiency, this approach can work closely with local planning to empower communities and drive local growth. The Government is working to set out its detailed thinking in due course.
In 'due course' sadly means we won't find out the final details in the Part L 2013 consultation. Looks like we'll have to wait until March Budget 2012 for a Policy statement on off-site allowable solutions. And I'm nervous about the get out clause at the end of this statement – perhaps one option for Part L 2013 consultation will be 'do nothing':
Our current review of these Regulations looks at opportunities for further improvements planned in 2013 where these can be achieved while meeting deregulatory aims.
So what of the Code for Sustainable Homes? For few scary moments I thought the whole thing had been ditched (I was feeling particularly dramatic and reading between the lines):
83. We have also removed all additional centrally imposed standards for houses built on surplus central government land and we have eliminated additional HCA standards for public sector build. Both of these actions will help to stimulate house building in the short term and provide a clear message of our commitment to de-regulate the industry. Alongside this, we are working with an industry and local authority-led group, chaired by Sir John Harman. The group is helping local authorities and developers by developing advice on how they can fulfil the viability policy in the draft National Planning Policy Framework. The group will also provide advice about the simplification, improvement and harmonisation of housing standards, including the Code for Sustainable Homes (see page 59).
30. The Code is the voluntary national standard for the sustainable design and construction of new homes and offers a range of sustainability benchmarks in order to help focus developer and industry innovation. Over 43,000 Code homes have been completed since the scheme began in 2007, with over 86,000 at the design stage. On average, a Code Level 3 home (midway on the scale) costs around £1,200 more than a building regulation minimum standard home.
On first reading I thought they meant that ALL centrally imposed standards were being removed, but then I realised that they were just re-iterating the announcement from LAST November that HCA would not be taking up CSH4* (except in London) as proposed from 1 April 2011. I think Hilary best captured my thoughts on including this in the Strategy: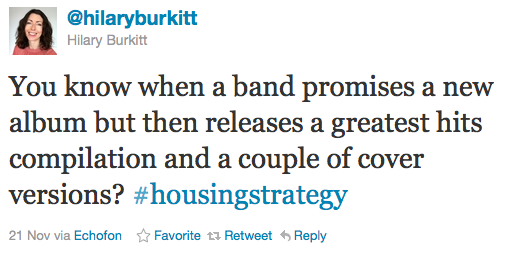 Phew, so CSH lives to fight another day. But back up, what's that about Sir John Harman's review? I've searched in vain for anything published about the remit of the review but apart from what is above I've drawn a blank. It's good news that such a review is being carried out, but as Grant Shapps has said before, there is overlap between CSH and various Building Regulations and other legislation. With the messages of de-regulation and cost-effectiveness I'm starting to suspect that CSH will be removed from the HCA's funding requirements in the near future. Currently the HCA AHP (the transition between NAHP and AHP having caused all the furore over housing starts stats post-strategy publication) still refers to the original 2007 Design and Sustanability standards which were inherited from the Housing Corporation. Had Shapps not cancelled the update last November, AHP would in theory call for CSH4*. Whilst AHP lasts from 2011-2015, the reality is that most larger schemes which are using the funding are on the drawing table now and trying to get through planning (with associated CSH pre-assessments and registrations) in order to get completed by the deadline of March 2015. So CSH (November 2011 version) will live on to at least March 2015. Removing CSH from HCA standards wouldn't kill off the CSH – it could still remain as a voluntary standard, but it would remove the majority of the market – the statistics released on 24 November confirm only 15% of homes with post construction certificates and 25% of those with design stage certificates have been built for the private sector. We only have data for design stage assessments and post construction reviews – if we also had data on registrations we could start to see how many dwellings are 'in the system' – of course not every project registered is built, so I can understand why they don't publish these figures.
Is there a further future for the scheme? Until I see a commitment from HCA to retain it going forward, or indeed the outcome of the Harman Review, I'm planning for the worst and hoping for the best. There was very little said throughout the NPPF consultation regards using it as a means of demonstrating that developments were sustainable. By the sounds of things the next version of CSH (which would in theory need to be released in line with Part L 2013 – so April 2013) could be a very different beast to how it is today. And just how does it look today? Below is a screen grab of a graphic I use sometimes which illustrates the issues in CSH November 2011 – each blob represents the percentage influence of the credit, the axis show roughly if the credit needs to be designed in early or can be added on at a later date (left to right) and the vertical axis is the scale – bottom is dwelling, top is the wider neighbourhood.
When you remove those credits which are covered by other regulations or could be covered by design codes, or are 'enabling sustainable lifestyle issues' (eg: composting) only really resource use and materials stands out (to me) as the thing which would be missed most. CSH has always been weak in transport (when compared to BREEAM, LEED or EcoHomes). Will son-of-CSH (if it transpires) address these shortcomings? Perhaps now is the time to feel optimistic, glass half-full rather than disheartened?
On that vein, I have high hopes for the Harman Review though – Sir John Harman's past roles includes leading Kirklees council from 1986-99 and the Environment Agency from 2000-8. Castleford born, he was knighted in 1997 for services to local government and the environment.