For those who've been trying to visit the site this week, you may have seen some error messages or strange layouts. I've been 'on holiday'* and took the opportunity to clean up my wordpress install using this guide. Hopefully I have got rid of any nasty viruses and changed every password possible so I don't get hacked again. It took me the best part of an entire day to do properly, so not something I undertook lightly.
I've also used a number of hints and tips from this guide to finetuning your wordpress install.
To remind myself what I've done, in case I ever need to do it again, in addition to the instructions at the link above, here's the plug-ins I'm using:
Akismet for spam
Antivirus (this really didn't like the thesis theme's functions.php file but I assume this is a one off)
Disqus to manage my comments
Google Analytics for WordPress – the main reason I'm trying this is because you can capture clicks on outbound links – as 40% of my posts are outbound links I thought it high time I looked to see what people were actually reading. I deleted the urchin script from my sidebar widget which had been providing my Google analytics up to now
Future Calendar which helps me schedule posts in the future (and avoid publishing everything on the same day)
Postalicious which automates my once a week round up of interesting links via delicious
O3 social share for easy sharing of posts over Twitter, Facebook, LinkedIn and Google + (this is a new one to me – had been using Share This but this had a better rating)
WordPress Backup by BTE, now set up do weekly backups
WordPress Database Backup, also set up to do weekly backups (having installed the firewall already, I managed to lock myself out of using this plug-in – needs to be whitelisted for the firewall!)
WP-Table Reloaded which I used on the posts for FiT but have managed to break the links to. I'm hoping the tables are in one of my backups somewhere but haven't manage to find yet…
WP-Math publisher which is a great way of writing mathematical formulae
WPTouch which displays the site when using a phone browser
I also discovered that all the images from the website from August 2006 to February 2009 had gone AWOL, and managed to find them in an old database. I think I managed to find all the missing images which made me incredibly happy, and all the posts I've checked look correct. Isn't great when something goes right?
I then deleted all the stuff I now knew was not needed using an ftp client (I'm using Filezilla on the mac). This took more effort than I had anticipated – some hacked files just would not delete (I didn't have the correct permissions).
Then I checked the content was still there and kept getting 404 errors. ARGGHHH! I had managed to break the permalinks. So, went into permalinks and re-chose the correct option.
Then I was ready to tweak the theme. I've been using Thesis but not really had time to set it up the way I wanted before. Firstly, I managed to upload a favicon for the first time ever, so now my weemee image of me adorns the address bar etc. Very pleased with that. Luckily, Thesis remembered the settings I had made previously so my fonts etc remained the same.
I wasn't really sure at first what all the fuss over Thesis is – but then I got the hang of hooks and it all clicked. For example, I managed to change the position of my previous/next links to the top of the post and also add 5 related posts (by category) to each post. Next I need to learn how to tweak the css to make things looks prettier.
Then I moved the widgets about and replaced the archives by month with a category list. One of my plug-ins doesn't play nicely with the widget bar, so I cheated, deactivated them all, tweaked the widgets, then reactivated. More a fudge than a fix but it worked for me. I really should work out which one it is and then list it, but it was getting late by this point…
This then triggered me to play around with categories. I'd been meaning to clean this up in forever. First I added the category to each post using the Bylines options in Thesis: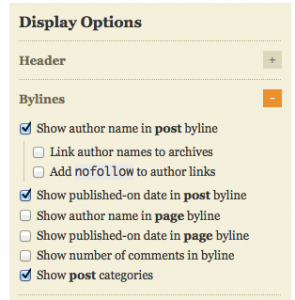 Then I had a good spring clean. All the automated links posts via delicious are now categorised as News and no other posts share that category. Of the 800 odd posts, 319 are automated News links. That left almost 500 to knock into shape. A daunting task. The best article I found for thinking it all through was a really old post over at Lorelle's excellent blog – her rules for categories being:
Sift through content for topic collections
Check search engine result terms in blog statistics
Check tag lists for common threads
Which subjects are generating the most comments and trackbacks?
Narrow the results down to core summary collections of post topics
Ensure an adequate number of posts and future posts for that category
Find a name for each group that works both as a category and a tag, if possible
Add categories to all the posts
Re-evaluate categories as you go
Revisit categories in 3-6 months
(Categories is something which fires up a lot of bloggers obsessed with SEO. I just want my readers (and me!) to be able to navigate the site a little easier and find relevant related posts. I hope I've managed that). This took me the best part of another morning but I ended up with a fairly robust system. Let me know how you find finding things – some hot topics have been granted their own categories (BREEAM versus LEED and Feed In Tariffs for example). I've still got about 100 uncategorised posts – miscellaneous stuff mostly from earlier on the blog's history before I was quite so focussed. Unsurprisingly, my two most written about topics are BREEAM and Part L.
The sidebars were then tweaked again to show off my lovely new organisation using categories. And voila! (if you're reading on RSS, please do stop by and have a play on the site).
* less of a holiday and more of an indulgent mental declutter week – I highly recommend it if you can – a week to blitz all that 'stuff' which hangs over you, sucking up valuable mental 'space'…