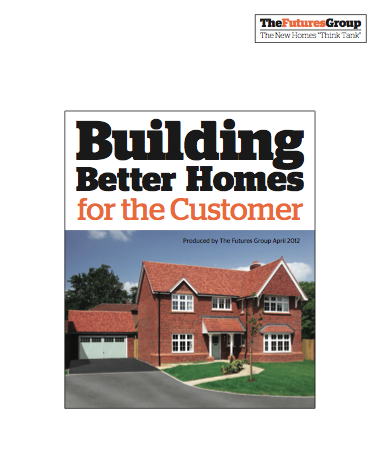 Very quietly pushed out on 17th April 2012 (the only press I've seen which picked it up were Construction Enquirer – linked further down), a press release buried in the Masonry First website heralded the launch of a new report from 'think tank' The Futures Group "Building Better Homes for the Customer" (pdf, 16 pages). Their key recommendations are:
withdraw Code for Sustainable Homes as an assessment, bringing key parts into the Building Regulations
not changing Part L in 2013 as currently programmed but waiting until more evidence collected
Their timing is impeccable. Part L 2013 consultation closes on Friday 27th April and this report plays the hand of a significant proportion of house builders. Members include Taylor Wimpey, Barratt Homes, Bovis, Redrow, Miller and McCarthy & Stone.
Taking seasonally adjusted housing completions for 2010 (DCLG statistics) of 102,830, the members of the group account for 28,879* of them – at over 28% of the market they can claim to truly represent housebuilders. Additionally, the supply chain is well represented, with a strong focus on traditional build materials.
It's a new body to me and the website is still under construction. Construction Enquirer explain their pedigree:
Set up by the Modern Masonry Alliance and Home Builders Federation four years ago, the group also wants to reduce red tape and remove unnecessary duplication of regulations by bringing parts of the Code for Sustainable Homes into existing regulations.
The Futures Group seem to be the antithesis to the Zero Carbon Hub. Indeed there's a dig at (what I have assumed to be) the deliverability of the ZCH proposals on the first page:
The Futures Group can support Government by providing a direct link to expert resource within the industry who can advise on the commercial impact of proposed regulatory changes, based on extensive, cumulative hands-on experience rather than pure theory.

The traditional consultation process giving voice to many disparate interest groups can create a confusing and unbalanced picture. Members of The Futures Group believe that this has on some occasions resulted in misguided and questionable policy decisions being made which have led to significantly increased cost for the industry and unintended consequences.
One of their key themes throughout the paper is that policy direction over the past few years, whilst (and possibly because of) being widely consulted on, does not truly reflect the expertise held within the industry.
Onto their recommendations. At first they seem to be supporting the government's preferred option for Part L1A 2013 of an 8% improvement in carbon over Part L 2010, quoting a 30% reduction over 2006 (which is near to the 33%). In actual fact they don't want any improvement on 2010, as they point out that due to the changes in treating party walls within SAP, the 2010 improvements over 2006 are greater than the quoted 25% and equate to 30%:
This means the industry is effectively already delivering to our proposed revised 2013 figure and we submit that further regulation changes are unnecessary at this time.
A whiff of sleight of hand here, but I am in agreement with their findings with regards to equating CSH3* to Part L 2010, with Merton Rules compounding the confusion:
…it is erroneous to evidence figures for new homes built to Level 3 of the Code for Sustainable Homes, because changes to successive versions of the Code and Standard Assessment Procedure make accurate comparisons with Part L (2010) totally impractical. The confusion is compounded by the award of code credits for the installation of renewables, often driven by the need to meet planning-led Merton Rule type policies, which may result in a build specification which compensates by employing less demanding fabric standards.
I would question the phrase 'totally impractical' – this jars with my engineer brain – I'm sure I could find a way to map the results – their point being that it is not an easy task stands. I've written before on the unintended consequences of Merton Rules. The problem, if we go down this route is what happens to our well worn path to zero carbon? No alternative path is given nor any indication as to when they'd next like to see the regulations change, if not in 2013. This weakens the report and I'd have taken it more seriously if an alternative had been given. Then again, it's hard to beat a path to something which still isn't properly defined.
Next they look at FEE (fabric energy efficiency). One point which hits home and something I will also be saying in my Part L 2013 consultation response is:
…concern is being expressed about summer overheating in well insulated new homes. Evidence is anecdotal in the main, with little published, verifiable information available, but studies to date suggest that SAP is inadequate in this area and an approach employing more complex dynamic modeling is required to more accurately assess and understand the mechanisms involved.
I would prefer they framed this as a design problem, rather than an insulation problem. It is more than possible to properly design well insulated homes so they do not overheat, but I agree that SAP is not the tool to do this with.
Next they wish to wait until results of as built performance are available for 2010 before moving the goalposts again. Conversely they wish to have a database of psi values for accredited construction details now, before the junctions have been 'proven':
…a database of as constructed details needs to be established prior to the introduction of any formal scheme. If evidence is produced indicating that the actual values are not achieving their design and assessed values, the data collected would properly inform development of an effective scheme.
In the meantime the industry should be allowed to use its own details or published versions until such time as evidence is produced to indicate that the actual values are not achieving their design and assessed values.
Some consistency in approach would help their case here – you can't have it both ways. Personally I would drop the demand for comprehensive data being available for as-built performance before a change to Part L is allowed. The change of 8% proposed in the current consultation is doable, and would keep us on the trajectory to the political nirvana of zero carbon. Defining zero carbon by 2016 will be made even harder if we don't take at least this next step (which we've all had plenty of time to prepare for and won't be built on the ground until 2014 at the earliest).
The 'doability' of the proposed 8% improvement (which is much less than current CSH4* standards) is proven, and in most cases by the housebuilders who have lent their names to this report. Indeed the AIMC4 project includes Barratt and H+H, both of whom are also in the Futures Group. The report would have considerably more substence if they could have evidenced some learning from AIMC4.
Which leads us on to the final point I want to explore in the report. The death of Code for Sustainable Homes as an assessment. This is something I have predicting for quite some time, and we are currently waiting with bated breath the interim findings of the Harman Review, mentioned in the report. Is the Futures Group wishlist a preview of what Harman will publish? Or will CSH survive in some guise? Grant Shapps has voiced his preference to bring CSH within Building Regulations and the reports apes much of what has been said before:
The Futures Group believes that there is significant duplication within the regulations and the code. This offers the Government the opportunity to remove red tape and create estimated cost savings of £750million in administration.

In taking forward this approach, it is effectively making the Building Regulations a set of sustainable regulations, We believe that the Code has served its purpose and it is time to move on.
I've done a similar exercise myself and my one area of concern had been materials. The Futures Group have covered this by including the supply chain, although there is no detail as to how this will be policed or incentivised.
The report has much to be commended in it and makes some valid points. There unfortunately is an underlying current of 'it's too hard and we don't want to do it' to it which does not reflect my experience of housebuilders. Come on guys, I know you've got it in you. By the time the 2013 regs are being built (about 2015 going on how quickly 2010 has worked it's way through – we're just seeing 2010 going on site now), cost issues will have worked their way through. Without this as a driver, there won't be an incentive for supply chain to improve.
We desperately need some clarity on housing policy:
the final definition of zero carbon
Harman's interim findings
I'm currently involved in several pre-planning projects for housing within London which will be phased over the next 5-10 years. My Mystic-Mel skills are being stretched to the max.
*statistics taken from Building magazine's Top 25 Housebuilders – Ranked by Sales/Completions