I had the enormous pleasure of being asked by Claire Walker of CKE (Centre for Knowledge Exchange) to present the keynote speech at last week's Green Vision Building CSR event at Old Broadcasting House, Leeds Met. Leeds being my spiritual home (having studied (twice), worked and lived there for about 10 years on and off) I jumped at the chance.
I elected to go 'old skool' and present without slides. I've been reading too many books about bad powerpoint (Garr Reynolds 'Presentation Zen' [pb
/kindle
] and Bayley and Mavity's 'Life's A Pitch [pb
/kindle
]) and I didn't leave enough time to source the images I really wanted (there's a tin of alphabetti spaghetti with my name on it…) that I decided to do without props. This might have worked better if I hadn't welded myself to the podium – on reflection perhaps I should have picked up the mic and wandered about a bit? Anyway, as I didn't have slides to leave, I promised Claire, Paul and Martin I'd write up my notes on the blog.
I almost never fully script speeches – preferring to tweak things to the audience on the day, so what follows isn't exactly what I said, but I think covers almost all of the topics I touched on (another lesson learned – 15 minutes is not very long! I tried to fit far too many ideas into this talk, a couple of which are excised from this for longer more focused blogposts another time. I have however referenced papers I spoke about). I've also expanded some thoughts with hindsight granted from the conversations I had with others throughout the rest of the day.
What is CSR useful for? In my opinion CSR is primarily about 'communication' It can be used as companies to communicate values both externally and internally, beyond operations (what makes money for the company). This voluntary action of 'taking a stance', making explicit what was once implicit or unsaid (or unthought about) can be risky.
CSR can be (and has been) used to greenwash the operational activities of a company – I come back to this later on. Before making CSR 'values' explicit, management should ensure everyone is 'on the same page' to prevent damaging criticisms and reactions. Governance and legal structures can be an important aspect of CSR – who profits from the company and over what timeframe are investments and returns analysed?
In an ideal world CSR would be a redundant concept.
Where do buildings fit into this? Depending on the business, buildings can account for the 2nd or 3rd largest investment behind staff and operations. For companies who 'make widgets' vs. those who employ knowledge workers, buildings shrink in importance. Indeed those leaders who are well known in CSR tend to come from a manufacturing background, rather than knowledge workers. Let's look at 2 heroes of CSR and see what lessons can be gleaned for buildings.
Yvon Chouinard
of Patagonia – a desire to change the behaviour of rock climbers, educating them in 'clean climbing' and profiting from doing so are documented in his excellent book 'Let My People Go Surfing: The Education of a Reluctant Businessman
'.
Chouinard's passion for his subject matter comes across as truly authentic and the transparency with which Patagonia operates instills a trust in the brand.
From the book, his environmental philosophy is:
lead an examined life
clean up our own act
do our penance
support civil democracy
influence other companies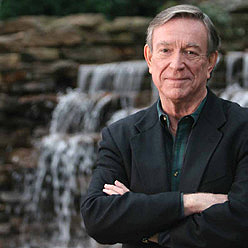 My second hero is the late, great Ray Anderson of Interface. I recommend reading 'Confessions of a Radical Industrialist' [pb
/kindle
]. I was not the only person to cite Ray on Thursday – he's a very popular figure in the world of CSR. A couple of quotes and passages from the book:
The trouble was, other than obeying the law, I did not have an environmental vision.

I knew "complying" was not a vision.

The seven paths to sustainability in sharp focus:   1. moving toward zero waste; 2. increasingly benign emissions, working up the supply chain; 3. increasing efficiency and using more and more renewable energy; 4. closed-loop recycling, copying nature's way of turning waste into food; 5. resource-efficient transportation, from commuting to logistics to plant siting; 6. sensitivity hook-up, changing minds and getting employees, suppliers, customers, and our own communities on the same page; creating a corporate "ecosystem," to borrow a term from nature, with cooperation replacing confrontation; 7. redesigning commerce, teaching a new Economics 101 that puts it all together and assesses accurate costs, sets real prices, and maximizes resource-efficiency.

Take nothing, do no harm
What both of these characters have in common is the ability to clearly communicate their vision in an authentic, transparent and accountable manner. For companies where knowledge workers, and by extension buildings, dominate operations, what lessons can we learn? How can buildings help communicate CSR?
Falling back on the old adage "what is measured is managed" and extending it to "what is measured can be recorded, reported and communicated". For buildings there are two principle aspects – design and operation. Any reporting needs to be measurable, accountable and repeatable.
For design, I will look at building labelling, and specifically BREEAM as a communication tool. There are 3 reasons for undertaking BREEAM:
client desire
funding requirement
planning requirement
I am focusing here ONLY on client desire. A building label is a way of reporting both externally and to staff that as a company you have invested in an above average, green building. It can also be a useful tool during the procurement process – as a client you may know you want a sustainable building, but you possibly don't have the detailed knowledge to specify exactly what that is. BREEAM can be used as a shorthand method for expressing your intentions to the design team and contractor. It can also be a useful 'stick' to prevent 'value engineering' diluting green elements during the build process (I would caveat this massively to say BREEAM is by no means perfect in doing all of this).
Current BREEAM manuals state the distribution of ratings as:
The BREEAM rating benchmark levels enable a client or other stakeholder to compare an individual building's performance with other BREEAM rated buildings and the typical sustainability performance of new non-domestic buildings in the UK.

In this respect each BREEAM rating level broadly represents performance equivalent to:

Outstanding: Less than top 1% of UK new non-domestic buildings (innovator)
Excellent: Top 10% of UK new non-domestic buildings (best practice)
Very Good: Top 25% of UK new non-domestic buildings (advanced good practice)
Good: Top 50% of UK new non-domestic buildings (intermediate good practice)
Pass: Top 75% of UK new non-domestic buildings (standard good practice)
Some stats from RICS Supply and Demand of Green Buildings March 2012 (pdf):
For England and Wales, the ratio of BREEAM certified buildings has increased from one percent of the new building stock per year to just under six percent in 2008. In addition, London went from under one percent to nearly nine percent. Although BREEAM certification expanded rapidly, these buildings constituted just two percent of the stock for England, Wales and London. As of June 2011, BREEAM-certified space encompasses 5.8 million square meters of UK office space, translating to approximately 30 percent of new floor space.
Green buildings have a tendency to cluster, and don't change hands often – signifying a 'buy and hold' behaviour.
For design teams new to BREAM, the greatest lesson can be that of collaboration. Charles Leadbeater in 'We Think' [pb
/kindle
] says of Wikipedia that it:
"teaches habits of participation responsibility and sharing"
BREEAM also has the potential to break teams out of silo thinking.
Looking at the operations of buildings, post construction, we have an alphabet soup of tools to help us report: EPC, DEC, POE, BPE…
Building performance evaluation and post occupancy evaluation are ways of monitoring the well publicised compliance-design-performance gaps which exist. One issue currently is the lack of data available for this process – encouraging CSR reporting for building stock and reporting, say DEC against EPC, would help close this gap.
Building labelling for 'In Use' is still an emerging market in the UK and Europe, with Green Rating battling against BREEAM In Use. However, this year in the US for the first time, cumulative floor area in LEED EBOM certified projects now greater than in new construction.
A Nils Kok paper to finish on:
We analyze the occupancy of green office buildings by firms and their industrial characteristics, identifying those firms and  industries which have the highest occupancy in green buildings. We formulate four main reasons to explain why specific firms and industries may be more likely to lease green space, and test these using a sample of more than 11,000 tenants in 1,100 green buildings and in 3,900 nearby non-green buildings. We analyze the occupancy of office space in green buildings as compared to otherwise comparable non-green buildings. We find that corporations in the oil and banking industries, as well as government-related organizations, are among the most prominent green tenants. The empirical analysis shows that tenants in these industry groups are significantly more likely to rent and to occupy green office space.
The more cynical among you may conclude from this that buildings can be a very useful CSR greenwash investment!
In conclusion, buildings can be a useful aspect to CSR, the tools to communicate buildings credentials exist, but in particular in operational mode, the reporting is not yet fully repeatable and accountable. Whilst there are plenty of people with passion, work is needed yet to gather authentic, transparent data and information which is completely trustworthy.
Another blogpost from the day with even more reading recommendations can be found over at Martin's blog.